+ JMJ +
1. Now that I'm older, I notice how much I love silence. I used to always want to have music playing in the background. But now, I don't even miss that. The house gets noisy when the kids play or when hubby watches his sports shows or the news. Plus teen daughter loves to sing, while hubby has his background music playing when not watching TV. At least, I know I'm not hard of hearing. =) But I do relish the silence when we get back from the library, and the kids are quietly enjoying their reading, or when I stay up at night to return e-mails or blog. I guess the aging process opens up a whole new window on life .... =)
2. We have been enjoying Rozanne Gold's award-winning 1-2-3 cookbooks, in which she features recipes that have only 3 ingredients, and most of the ones we've tried have been delicious! These are the cookbooks we've used so far:
Recipes 1-2-3: Fabulous Food Using Only 3 Ingredients
Little Meals: A Great New way to Eat and Cook
Desserts 1-2-3: Deliciously Simple Three-Ingredient Recipes
3. Wittman Mechanical is coming on Tuesday to take a look at the leak on our A.C. unit. Not a good sign. Hubby, who was laid off last January, but (THANK GOD!) found a new job late last April, is concerned about the expense. So we're hoping it won't be a major repair. (Dear Lord, please don't let it.)
4. Aside from the A.C. unit (our house is really getting old), our garbage disposal has been broken for, at least, a year now. Hubby wanted us to save money by just using the plunger every time the kitchen sink clogged up. It's worked all this time -- except that it's gotten harder and harder to unclog the sink these last couple of months. Now, only hubby can do it because he's the strongest in the family. But during the day, the sink easily clogs up again, and he has to unclog it every night when he comes home from work. So he's finally decided to order a new garbage disposal and have it installed. Thank You, Lord!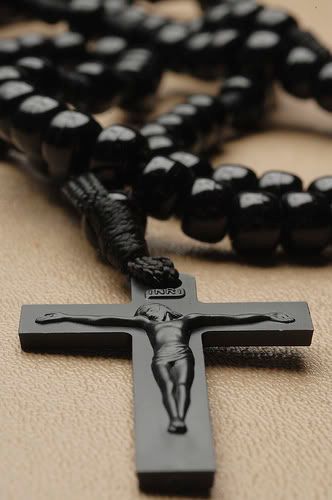 5. We've always had no problem reciting the Chaplet of Divine Mercy everyday, either at 3:00 or at night with hubby. But the Rosary never came easy to us -- until last month, when the whole family got tired of reciting our list of novenas for night prayers (one for each member of the family). Hubby and kids asked if we could switch to the rosary, since it was the month of Our Lady. I never thought I'd ever hear that! It was like music to my ears, lol! I'm happy to say that we've been going strong with it since.
6. I am really enjoying this blogging thing! Have been doing it now for 1 month and 4 days . =)
7. We've been relaxing and not running around in a whirl of activities like we usually do during the schoolyear. I'm SO GLAD it's summer!