+ JMJ +
Saint Hilarion the Great
(291 - 371 AD)

Feast Day: October 21
On October 21st, we remember a saint who began life possessing many of the delights the world can offer, and willingly gave them all up. He is Saint Hilarion, who became one of the foremost ascetics of Palestine.
Hilarion was born at Tabatha, south of Gaza in Palestine. He was the son of Pagan parents, who did not believe in God. But he had a happy and relatively carefree childhood. He read and played music, enjoyed sports and games, and idled away hours with his friends. There was little to suggest that he would deny himself the pleasures of life as he grew up.


Hilarion's parents wanted to give him a good education along with his other advantages. When he was a teenager, they sent him to Alexandria in Egypt -- a sophisticated city known for its libraries, schools, and excellent teachers -- to study. It was then, as a student, that his life changed forever, and in ways his parents couldn't have anticipated.

Alexandria offered many forms of entertainment. A person could go to the theater, attend the circus, or shout with the crowds at violent, bloody contests in the arena. But Hilarion was unimpressed and even repelled by these.

He found himself drawn instead to the assemblies of Christians, who met often to worship. These people became his friends and his guides in the spiritual life.

There at the age of 15, he was baptized. His conversion started him out on a glorious journey leading him closer to God.

Like everyone in Alexandria, Hilarion had heard about the famous monk, who made his home in the forbidding Egyptian desert and lived a wonderfully simple, prayerful life there.

After listening to an account of the angelic life of St. Anthony the Great (January 17), Egypt's illustrious hermit, Hilarion went to visit him in the desert, desiring to study with him and learn what is pleasing to God. Upon meeting that truly great man, the Father of monks, Saint Hilarion determined to devote himself also to the ascetical life.

The visit changed young Hilarion's life forever. He stayed with Anthony for two months, and carefully observed everything the older man did — his constant prayer, his extremely austere diet, the gentle way he dealt with other people while being so strict in his own habits. Hilarion decided to begin a life modeled on Anthony's.


Many people came to St. Anthony for help. Soon, it was not quiet enough there for Hilarion. He could not find the peace he was looking for. He wanted to be alone to serve Jesus, whom he had just come to love. So he returned to his native land, Palestine.

When he did so, he found that his parents had died. He quickly settled his affairs by distributing his family's inheritance to the poor. Afterwards, he set out into the desert surrounding the city of Maium to live alone as a hermit. Though only fifteen years old (306), he built a little hut, scarcely large enough to accommodate himself, and slept on the bare ground.


Saint Jerome, who wrote an account of his life, described his efforts:


"With no other covering for his limbs but a shirt of sackcloth, and a cloak of skins which the blessed Anthony had given him when he set out, and a blanket of the coarsest sort, he found pleasure in the vast and terrible wilderness with the sea on one side and the marshland on the other."
Most of Hilarion's time was spent in reading and in meditating upon Holy Scripture. He fasted during the day and had a small meal after sunset made up of a few figs and a little soup from herbs. This sufficed for his nourishment, but he never took it before the setting of the sun.


He supported himself by weaving baskets, but spent the rest of his time in prayer. Because of his mortifications and humility, he triumphed over fierce assaults by the evil one, for in the desert, Hilarion faced many temptations. At times, he felt that God did not hear his prayers at all. But he did not let these temptations stop him from praying even harder.

The monk struggled intensely with impure, lustful thoughts, vexations of the mind and the burning temptations and passions of his flesh. But he defeated them with heavy labor, fasting and fervent prayer. The devil sought to frighten the saint with phantoms and apparitions.

During prayer, St. Hilarion heard children crying, women wailing, the roaring of lions and other wild beasts. The monk perceived that it was the demons causing these terrors in order to drive him away from the wilderness. He overcame his fear with the help of fervent prayer.

Once, robbers fell upon St. Hilarion, and he persuaded them to forsake their life of crime through the power of his words.

After twenty years in the desert, the holy man worked his first miracle. Soon, all of Palestine learned about the holy ascetic. Many people began coming to his hut to beg his help. He became a healer, a counselor, and a worker of miracles.

The Lord granted to St. Hilarion the power to cast out unclean spirits. With this gift of grace, he loosed the bonds of many of the afflicted.

Such was the grace that he received from God that he could tell by the smell of someone's body or clothing which passion afflicted his soul. The sick came for healing, and the monk cured them free of charge, saying that the grace of God is not for sale (MT 10:8).

Several men asked him to let them stay with him to learn from him how to pray and do penance. They came to St. Hilarion, wanting to save their soul under his guidance. In his great love for God and people, the saint invited them to stay.

With the blessing of St. Hilarion, monasteries began to spring up throughout Palestine. Going from one monastery to another, he instituted a strict ascetic manner of life.


Because of the miracles he worked, he found himself compelled by his growing renown to leave Gaza, to escape from the throngs of people coming to ask his prayers.

He began to travel, when he was sixty-five. He moved frequently so as not to attract adoring followers. He passed through Egypt and Libya, and sailed to Sicily in search of peace and quiet.


When he visited Egypt, he came again with longing to the place where Saint Anthony had lived. But he was not able to remain in any one place for long, since despite all his attempts to conceal himself, the light of the grace that was in him could not be hid. The fame of his miracles of mercy always brought crowds of visitors. (He had two thousand followers.)


A few years before his death, Hilarion finally found a lonely cave in Cyprus and at last felt that he was truly alone with God. There, the ascetic lived in a solitary place until the Lord summoned him to Himself. He was eighty years old when he died.


The day of St. Hilarion's death is given as October 21, 371. His grave is on the island of Cyprus. St. Jerome wrote the life of the holy hermit twenty years after his death in 390 AD at Bethlehem.

+ Prayer +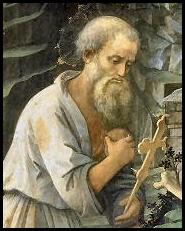 With the streams of your tears, you have made the barren desert fertile. Through sighs of sorrow from deep within you, your labors have borne fruit a hundred-fold. By your miracles, you have become a light, shining upon the world. O St. Hilarion, pray to Christ our God, to save our souls.
As we gather on this day, we sing your praise and acclaim, you as a never-setting light of the bright spiritual Daystar. Those whom ignorance benighted, you illumined with your beams; and you raised to the divine heights, O St. Hilarion, all who cry out: Height of ascetics, Rejoice!
[Source]
St. Hilarion, pray for us, now and at the hour of our death. Amen.